Accurate Calculation of Extension and Summary Reports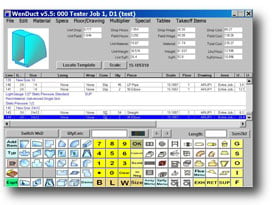 WenDuct Estimating software provides two types of default specifications for ductwork that apply to a specific ductwork system. Duct Specifications for system types include light gauge ductwork, spiral ductwork, heavy gauge ductwork and fiberglass ductwork. Duct Specifications include fabrication options, waste multipliers, hanger types and supports. General specifications include settings for wage rates,multipliers, discounts and automatic material pricing.
All of the above factors should be accurately completed prior to producing extension and summary reports.It is important to complete information concerning general specifications and duct specifications prior to creating a new system type. For detailed technical assistance contact the Wendes Systems technical support team.

Download Our FREE Mechanical Estimating Manual