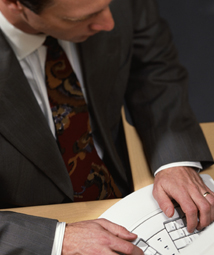 HVAC Estimating Software is a vital tool for your company's success by helping to provide accurate and competitive labor and material estimates faster than traditional manual methods. The industry reports that the typical productivity gain using HVAC Estimating Software vs. manual methods is about three or four to one. In other words, an estimator armed with HVAC Sheet Metal or Piping Estimating Software can produce accurate and competitive estimates four times faster than an estimator performing estimates by hand. Productivity gains are only half the story when comparing methods. There are also other important factors such as the ability to produce extensive detailed reports with each takeoff, conduct "what if calculations", quickly track "change orders" and modify an estimate when the scope of a project changes. Wendes software allows estimators to convert system and material types without re-entering information.
HVAC estimating software contains an extensive and detailed database of labor cost and material cost information. National Pricing services are included for mechanical estimating that that provide accurate national commodity pricing. Wendes systems labor database is derived from extensive per piece labor studies which were conducted over a twenty year period by founder Herb Wendes. The labor cost and material cost database contained in the HVAC estimating software may be adjusted to meet the unique methods and conditions of project specifications and practices employed by the HVAC Contractor. Factors such as regional labor rates and methodology are adjusted to produce highly accurate and detailed estimates for every region.
HVAC Estimating Software will contribute to a paperless workflow by producing a software based database for every project, information is easy to archive and retrieve. The software database provides an historical profile for projects with information concerning labor, materials, job scope which is recorded in the software for every project takeoff. New technology in "On Screen Takeoff" now allows estimators to "takeoff projects" on the computer screen without the need for paper drawings or electronic digitizing boards. Digital drawing files may be viewed on-screen for takeoff and passed on to others coordinating a project.
To learn more about HVAC Estimating Software contact Wendes Systems, Inc. for a free consultation, presentation and "Bid Your Next Project On-Line" with the assistance of an experienced Wendes consultant. Whatever method you choose; Fast, Accurate and Competitive labor and material cost estimates are vital to your company's success.
Topics: HVAC Estimating Software, HVAC Piping Estimating Software, HVAC Sheet Metal Estimating Software
Download Our FREE Mechanical Estimating Manual