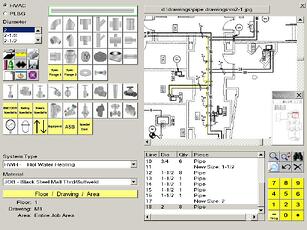 Evaluating HVAC Estimating Software can be a difficult process. We recognize that every company has unique requirements in selecting the correct estimating software for their business. "Trial Estimating Software" may help you to evaluate the best solution for your company.
Trial Estimating Software will allow you to deploy the application on projects that you bid and help you experience "real world" results.
Begin the evaluation process by detrmining the most important features required for your company. Create a quick punchlist of features that you need to help sreamline your estimating process. Select reputable software providers for a presentation and direct the process by selecting the features that are meaningful to you. After selecting a prospective software provider request a "Full Use Software Trial Evaluation" before you make a purchase, this evaluation will validate the software performance and features you need. The trial evaluation will provide hands on performance and an opportunity to experience the quality of training and technical support provided by the supplier. If you select reputable software providers they should be interested in long term relationships with their clients.
Choosing the correct HVAC Estimating Software application is a long term committment and financial investment that is vital to the success of your company. Producing accurate and competitive labor and material estimates is the cornerstone for the success of every company engaged in bidding construction projects.